Per TukTuk durch Galle und Umgebung
Dieser Eintrag wurde noch nicht übersetzt
After having a nice night to plan and order stuff after our beach trip we decided to call the TukTuk driver from our arrival in Galle to give us a little tour of the sourounding area.
The driver, whos name was Lal picked us up right at the Entry of our Hostel. From there he took us out of the Fort (the old town of Galle) and first Took us to a Hindu temple. He himself was Hindu and he kindly showed us around in the temple. We also got a dot on our forehead. What I found most interesting about the place was that the lower part of it was painted in grey and the upper part was painted yellow. Apart from that it was a very open building, with a chamber in its center that sheltered several statues .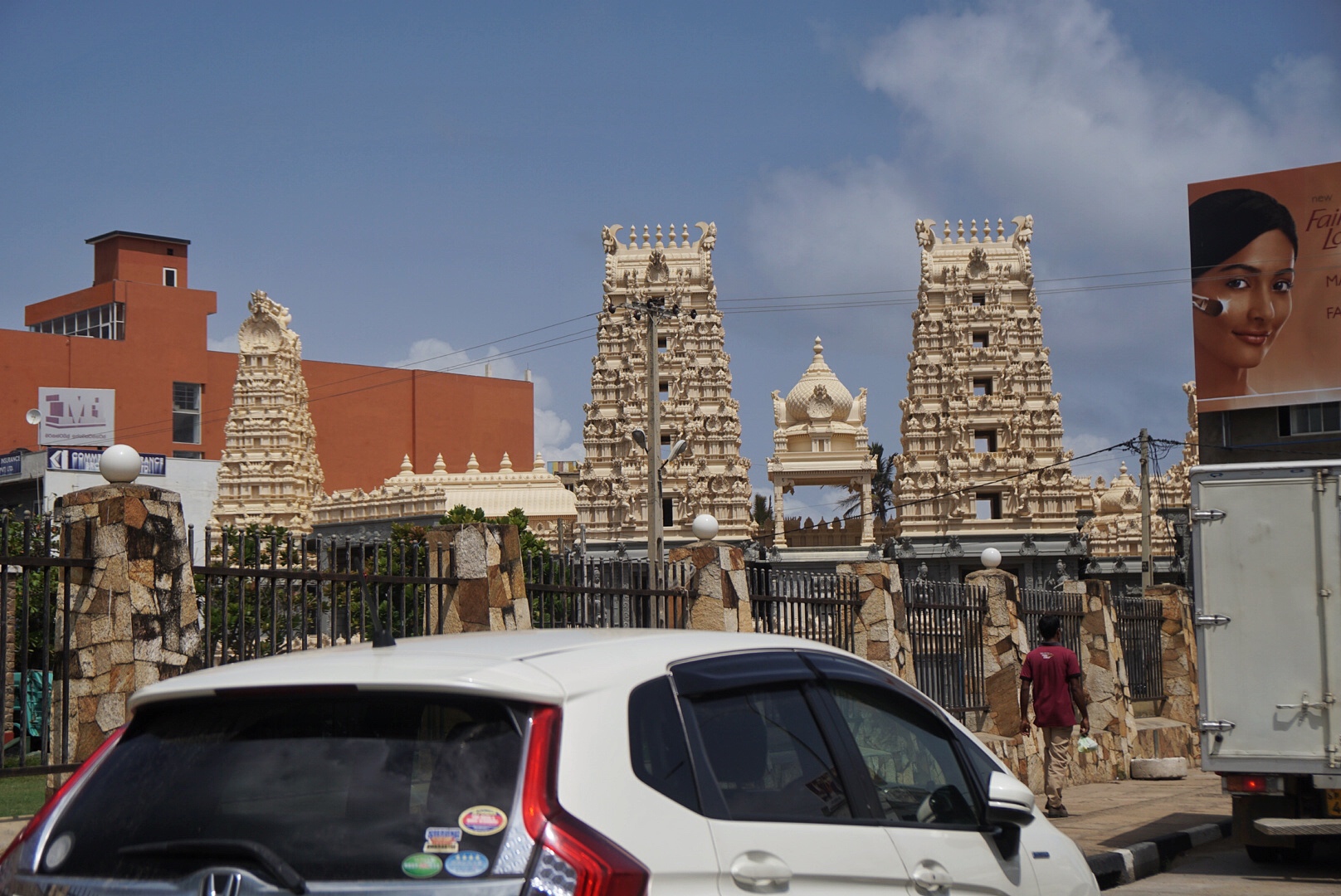 Our next stop was more touristy. Lal asked if we like gems and jewelery and before we could answer he stoped the took took infront of a little factory and shop. We were introduced to one of the merchants and he showed us around. We saw two guys selecting and polishing different gems, that were clearly setup for show purposes. Then we went in and since Johanna wanted to buy some earings right from the beginning of the trip she did so.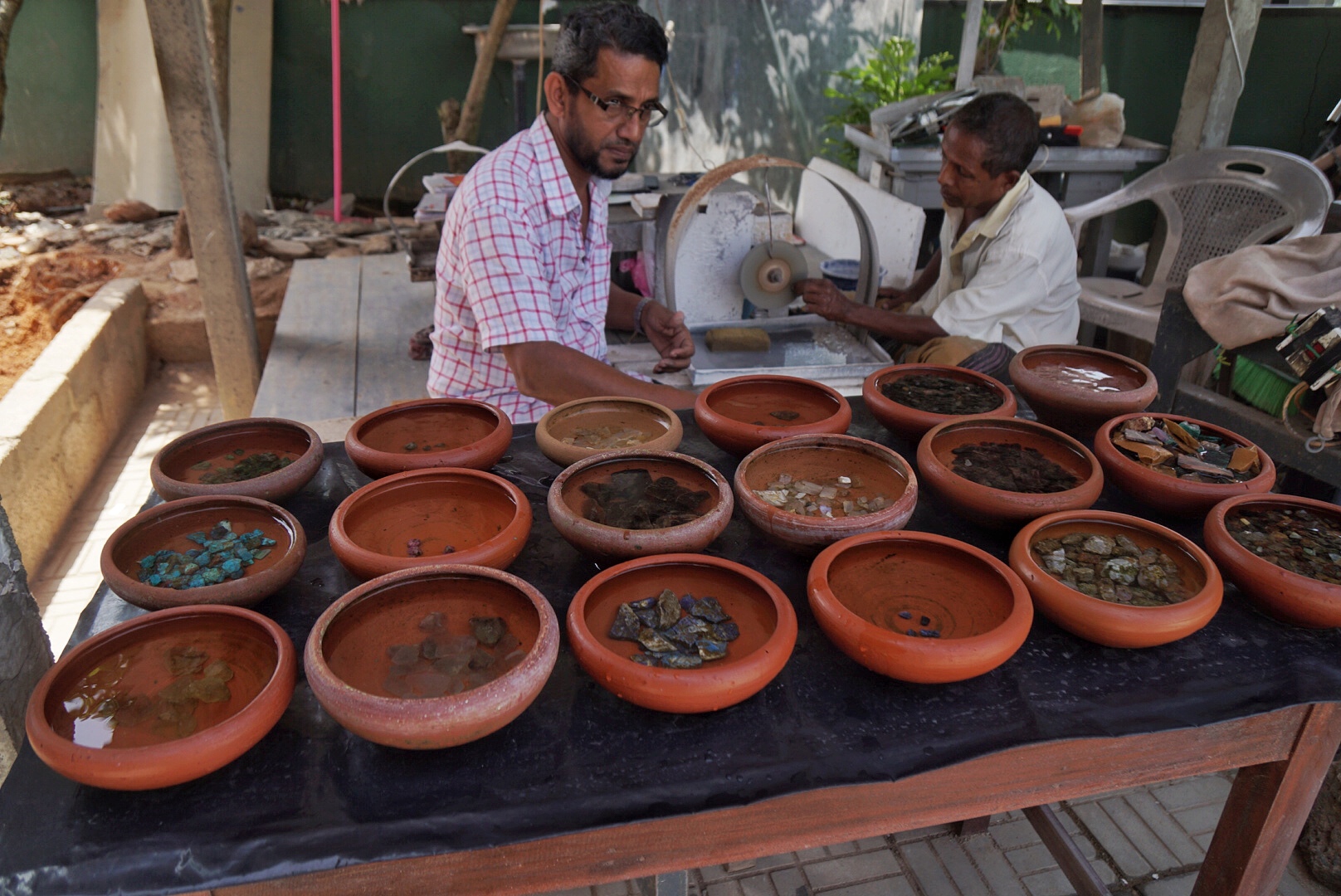 Our main interest was the so called Jungle Beach but Lal took every oportunity to take us to different places. The next stop was Lals own home, where we got to meet his son. Sri Lankans are very hospitable, still sometimes it is hard to tell if they do it because it is their way or if they have some intention like your money, especially if you are looking like a tourist in a touristy area.
We had tea with Lal and his son and got to know that he will have exams the day after to get into law university.
Going on from there we went to a buddistic temple. On top of a mountain there was a big Budda statue. Lal took us into the temple. The temple itself was currently under maintainance, but we still saw some pretty amazing artwork. On top of the hill we also took the oportunity to take some nice pictures with the view. (Click the images in the gallery to enlarge them)
Even though we tried to make Lal go to the Jungle Beach we made another stop at a ayurveda show spice garden. There we were told by a friendly guy about loads of herbs and plants and what they are used for. It was basically the same procedure as at the gem place, you get a really friendly tour of everything, after that it is kind of expected from you that you buy something. We tried to be as budget friendly as possible though and only got some menthol free muscle balsam (which apparently works quite well as I can tell after using it one time).
The spice garden was almost in Unuwatua, the next small town near Galle. Sice we agreed to pay per kilomenter I always kept an eye on the meter, but it was not to bad. We finally arrived at the Jungle beach parking area. There was also a small budistic temple there. We went down the hill for about 1 kilometer and saw a really nice beach. Johanna went for a short swimm there but since I forgot all my stuff we did not really stay long. There where also many, many tourists. Lal was waiting for us. Quite a nice Job when you wait on your guests on a beautiful beach and you know they will take your specific TukTuk back to where they came from.
After the trip to the beach we finally went home. After picking up our big backpacks we went another short round in Galle to see the Fort walls in proper daylight, then we almost lost our orientation, but landed at the bus stop in the end after all.
On the bus we had quite some fun, since on the tv they played videos of a drifting competition with such buses on a dirty field. The bus took us to Matara and from there we took another Bus to Talalla, where we booked a 2 person beach bungalow, but more on that in the next post...